MBIS UKC GRCh. SHR Am Ch. Nyehyrst Beithe Tryst, RAE, CD, JH, WCX, UWC, CGC
Judge's Award of Merit Recipient - CCRCA National Specialty 2007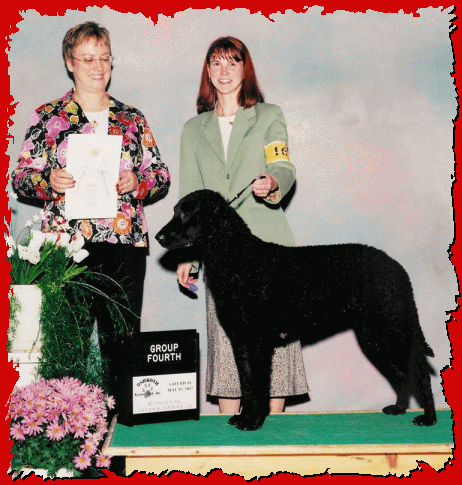 Owner Whelped, Trained and Handled.
Beatrice and I first met as she was delivered into this world into my hands.
I whelped her litter as well as several other Curly Coated Retriever litters. The dam of Beatrice's litter, of 14, developed
mastitis and I ended up spending more time caring for this litter. Needless to say, I became infatuated with the breed.
Having more experience with other retriever breeds, especially Labradors, I didn't know what nuances this CCR
would bring. My interest in 1920's Flapper Era music led to the once popular name, Beatrice.
Her tame yet outgoing nature, sometimes less than lady-like behaviour and benign clever naughtiness seem to fit.
She may wear her curly hair short but smoking and petting parties are definitely forbidden.

To view a larger image, just click on the thumbnail.
All photos remain property of their copyright holders.


©2010
-
All Rights Reserved